Cab Interior Options
A comfortable, safe, and attractive elevator cab gives your tenants and their guests a positive impression of your building. Delta Elevator can provide excellent value and a quick turnaround time on a good selection of standard cab interior options and finishes. Our exceptional manufacturing team can also source a wide range of custom colours and finishes to match any décor.
Standard Cab Interior Features
Stainless steel entrance wall
Raised plastic laminate panels on front and rear returns
Fluorescent light fixtures above aluminum louvres and T-bar
Stainless steel flat bar handrails
Black enamel base and reveals
Optional Cab Interior Features
Stainless steel trim on plastic laminate panels
Matching plastic laminate edging on raised panels
Mirrors on side walls
Mirrors on rear wall
Heavy flooring
Stainless steel base
Stainless steel reveals
Plastic laminate car doors
Prime coat steel car doors
Two-speed fan
Custom Finishes
Custom stainless steel or laminate panel finishes for ceilings and walls to meet your design and durability requirements
Handrail finishes, such as brushed bronze or painted enamel, to match your cab design
More elaborate finishes including mirrors and wood panelling
Handrail Types
Solid stainless flat bar, 6 mm × 63 mm (0.25″ × 2.5″)
6 mm × 102 mm (0.25″ × 4″) stainless steel flat bar
38 mm (1.5″) stainless tubular handrails
51 mm (2″) stainless tubular handrails
Special handrails
Fixtures
Battery-powered emergency light test key switch
Telephone handset installed in phone box
Hands-free telephone mounted in car station
Braille on car station
Braille on entrance door jambs
Car lanterns (illuminated direction arrows) in strike post(s)
Hall lanterns with chimes
Hall lanterns with chimes and integrated position indicators (show what floor the elevator is on)
Additional hall position indicators
Special fixture buttons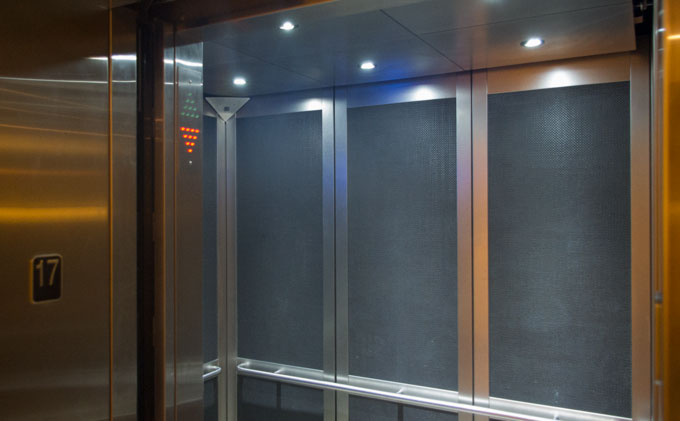 Ceilings
Aluminum Louvres: Aluminum louvres and T-bar provide an inexpensive ceiling solution for basic cab finishes. They use fluorescent fixtures to give good lighting levels.
Stainless Steel Panels: Stainless steel panel systems allow the use of various lighting systems, including LED lights. This ceiling is also more durable and vandal resistant.
Laminate Panels with Pot Lights: Laminate panels provide a wide variety of colour choices to suit your building décor.
Lighting Options
Fluorescent Lighting: Traditional fluorescent strip lighting provides durable lighting for applications where higher end ceiling finishes are not required. Fluorescent fixtures and bulbs are inexpensive and reasonably energy efficient and can be upgraded to LED lighting solutions when and if required.
LED: LED lights provide energy efficient, long lasting lighting solutions. They are available in strip lighting for solutions where a higher end ceiling finish is not required, or in downlight solutions for higher end cab interiors. LED lighting provides the latest in lighting technology solutions to meet the needs of today's energy efficient buildings.
Hoistway Entrances
Stainless steel entrance frames, main floor
Stainless steel entrance doors, main floor
Stainless steel entrance frames, all floors
Stainless steel entrance doors, all floors
Baked enamel doors and frames (all floors)
Summary of Standard vs. Optional Features

| Location | Standard | Optional |
| --- | --- | --- |
| Entrance Wall (Front/Rear) | Stainless steel | Textured metal |
| Non-Access Walls (Side/Rear) | Raised plastic laminate panels | Mirror, stainless steel or textured metal |
| Ceiling | Fluorescent light fixtures above aluminum louvres and T-bar | Pot lights in stainless steel or plastic laminate panels |
| Handrails | Stainless steel flat bar (6 mm × 63 mm) | Stainless steel tubular |
| Base and Reveals | Black enamel | Stainless steel |
| Flooring | Installed by others | Installed by others |