Company Information
Founded in 1967, Delta Elevator Co Ltd is a privately-owned Canadian business based in Kitchener, Ontario. From a single elevator mechanic, Delta has grown to become one of the few fully-integrated Canadian elevator companies that engineers, manufactures, installs, services, and maintains elevating devices.
Delta's commitment to hiring only the best staff makes us an industry leader in built-to-order elevating devices.
With decades of experience, our sales staff is responsive to your needs and able to provide in-depth, pre-contract consultation (no charge) to ensure the ideal product or service for your situation.
Our large elevator engineering department—which includes Mechanical, Electrical, and Systems Design Engineers—allows us to quickly and innovatively meet your unique requirements.
Delta's large pool of dedicated EDM-A licensed elevator technicians and EDM-T apprentices install and maintain an inventory of elevating devices with one of the lowest callback ratios in Ontario.
Our highly skilled fabricating staff uses state-of-the-art CNC equipment to manufacture elevators and controllers using lean manufacturing techniques, ensuring that only consistent, high-quality products bear the Delta Elevator name.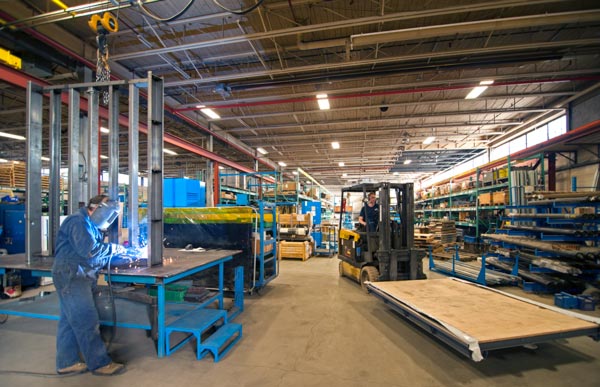 Our 66,000 square foot facility at 509 Mill Street in Kitchener houses our head office, manufacturing plant, repair facility, and main parts depot. We have a parts inventory in excess of $1,000,000.
Delta has offices in Markham, Mississauga, Peterborough, and London. In addition, we have qualified mechanics serving Owen Sound, Cambridge and Guelph; Delta Elevator has Southwest and Central Ontario well covered.
We offer 24-hour service with an average after-hours telephone response time of less than 30 minutes.
The full line of Delta products is also available through these resellers: Elevator One Inc. (serving the area north of Toronto), and Brock Elevator Ltd. (serving the Hamilton and Niagara regions).
Vision Statement
Delta Elevator was founded on, and continues to operate in accordance with Biblical principles:
The people at Delta are building a great elevator company through teamwork and through dedication to our customers.
Mission Statement
Delta's mission statement reflects the company's emphasis on long-term relationships with both customers and employees:
Delta develops, manufactures, installs, and maintains high quality and dependable elevating devices, provides honest service to customers, and gives long term satisfaction and employment to our people.