News
The following article appeared in the international Elevator World Magazine in the July 2017 issue.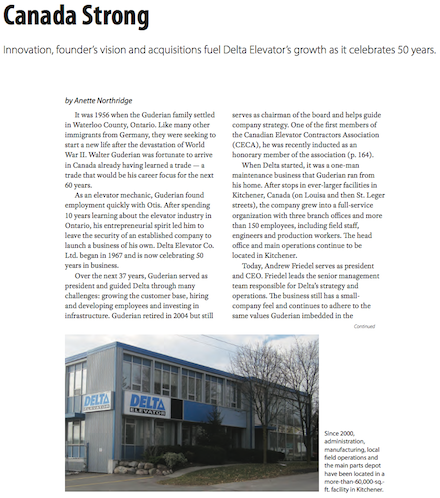 Investment in Advancing Additive Manufacturing Technology
Delta Elevator is excited to collaborate with the University of Waterloo (UW) and their experts to pursue the rapid commercialization of additive manufacturing technology and product design. As part of this initiative, Delta has hired a UW Coop student dedicated to investigating the development of high-value products using 3D printing equipment. The goal is to improve the design, quality, durability, and functionality of elevators through the use of additive manufacturing.
For detailed information please refer to the following article:

University of Waterloo lab will help shape the future of industrial 3D printing
(Waterloo News, May 2017)
Delta to Install Elevators at the Conestoga College North Campus Expansion
Collaborative Structures Limited has selected Delta to supply and install the elevators for the Conestoga College North Campus Expansion.
Located on University Avenue in Waterloo, the College space on the site will be doubled by a 150,000-square-foot expansion to "wrap around" what was once the last vocational school in the Region. The newly expanded space will become the location for all of the College's information technology programming.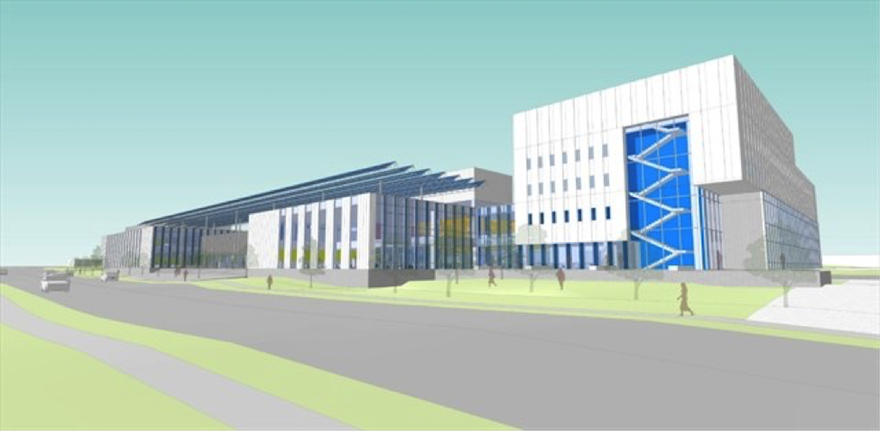 More information about this significant community project can be found here:
Conestoga Expansion Projects
Collaborative Structures Current Projects
Waterloo Region Record Article
Delta is a strong supporter of Ontario's college and apprenticeship systems and hires both co-operative education students and technical program graduates on a regular basis.
Making Vertical Transportation Possible
After the recent media coverage of Bill 109 and the Ontario Elevator Industry, here are two refreshing articles, from the New Yorker Magazine and the BBC News, that explain how elevator systems have evolved over the past decades and the reasons why people take efficient elevators for granted.
New Yorker Article: Up and Then Down
BBC Article: How the lift transformed the shape of our cities
Delta Elevator's core values of Integrity, Service & Quality guide our approach to business. We repair all elevators as quickly as possible and complete work in a timely manner – our satisfied customer base speaks for itself.
Delta Elevator's New Location in Peterborough
On May 1, 2017 Delta's Peterborough branch moved to a new location at 696 Rye Street. The new branch office has significantly more space than our previous location, which will allow us to carry a much larger inventory of spare parts to serve you better.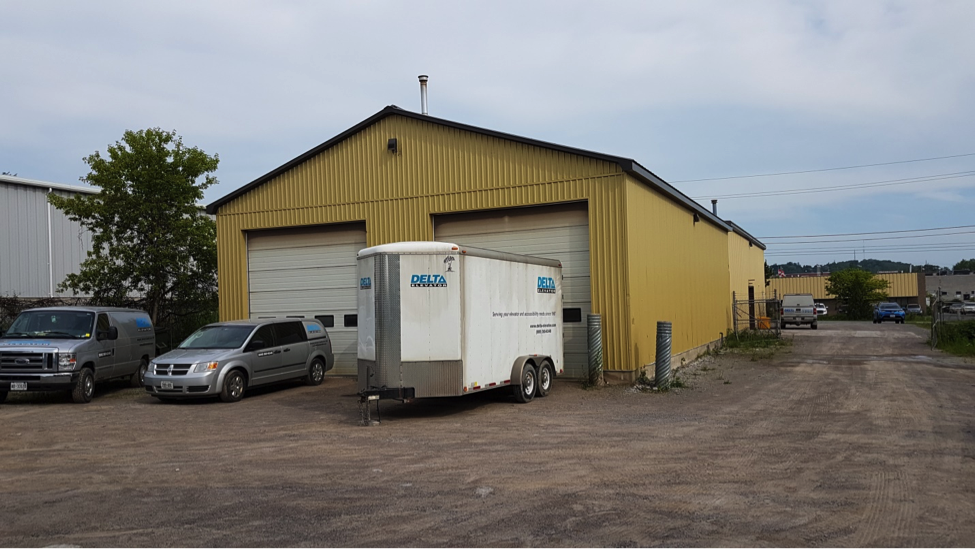 With easy access to Highway 7, Delta Elevator's new facility in Peterborough is in a strategically ideal location to serve all surrounding districts, from Pickering to Belleville and north of Peterborough from Kawartha Lakes to Brockville.
Delta is the largest independent elevator contractor in the province, with headquarters in Kitchener, Ontario. Highly trained and experienced Elevating Devices Mechanics are dedicated to providing quality support and extending the high level of customer service to a growing clientele in the Peterborough area.
For more information about our services and products, browse this site or call 1-800-265-6348. We look forward to serving you!
Delta Elevator Celebrates 50 Years of Integrity, Service & Quality
Delta is celebrating a very special anniversary in 2017: Fifty years of Integrity, Quality & Service in the elevating industry!
Half a century ago on May 26, 1967, Walter Guderian founded Delta Elevator Co Ltd as a one man business run from his home in Kitchener.
After 50 years of success as a family owned operation, Delta now services customers across southern Ontario through additional branches in London, Mississauga, and Peterborough.
We are especially grateful to our past and our present employees for making the company what it is today: We would not be here today without you!
Delta 50th Anniversary Video

National Association of Elevator Contractors (NAEC) "Mainline" Magazine Article
Delta Installing Elevators for the Walsh Group at Etobicoke General Hospital
Delta Elevator has been selected by the Walsh Group to provide the elevators for the Etobicoke General Hospital Phase 1 Patient Tower Infrastructure Ontario project.
The Phase 1 Patient Tower Project, involving the construction of a new four-storey wing, will add approximately 250,000 square feet of space to the existing facility and house the services most urgently needed by the Etobicoke community. Project features include:
a larger, state-of-the-art emergency department to better meet the community's need for high-quality emergency care
an ICU/CCU nearly four times larger than the current space
larger patient rooms filled with natural light that provide privacy and space to accommodate family members
a maternal newborn unit with birthing suites and a specialized Level II nursery for patients with non-life-threatening complications
an ambulatory procedures unit featuring procedure/operating rooms, pre- and post-op preparation and recovery areas and dedicated clinic spaces, including a respiratory clinic
The Tricar Group Selects Delta to Install Elevators at the Azure Condominium
Delta is pleased to be working with The Tricar Group once again, this time at the spectacular Azure Condominium located at 505 Talbot Street in London, Ontario.
Azure is an inspired tower of modern architecture that sets a new standard for downtown living.
Being the tallest residential tower in London is just one aspect that sets Azure apart from other traditional condominiums. A blend of light and form, this creative and responsible combination of light coloured concrete with a brick and glass window wall façade creates an aesthetically appealing and energy efficient building. It has both a vibrant and sophisticated presence.
One of Tricar's preeminent projects to date, it continues their commitment to the rejuvenation of the downtown London core; drawing people in to enhance the economic vibrancy with an active pedestrian connection between Azure's new street level storefronts, existing development and picturesque open spaces.
Delta Elevator is Growing Again!
We are pleased to announce the opening of our London, Ontario area branch office.
Located at 330 Hudson Drive, Dorchester, Delta Elevator is now providing service to all makes of elevators and accessibility lifts in the city of London and surrounding districts. With a core of highly trained and experienced Elevating Devices Mechanics, Delta's goal is to bring the same level of customer service excellence to the London area as our existing clients enjoy.
Delta is the largest independent elevator contractor in the province, and proudly designs and manufactures elevators in Kitchener, Ontario.
In addition to maintenance and repair service, Delta provides new installations and modernization retrofits based on its full line of elevator products — accessibility lifts, hydraulic elevators, freight solutions, MRL (machine-room-less) and traditional traction elevators — all precisely guided by our DMPC controller.
The London area branch joins our existing, strategically located offices in Peterborough, Mississauga, and Kitchener.
For more information about our services and products, and the advantages we bring to the London market as a Canadian-owned and independent contractor, browse this site or call 1-800-265-6348.
We look forward to hearing from you!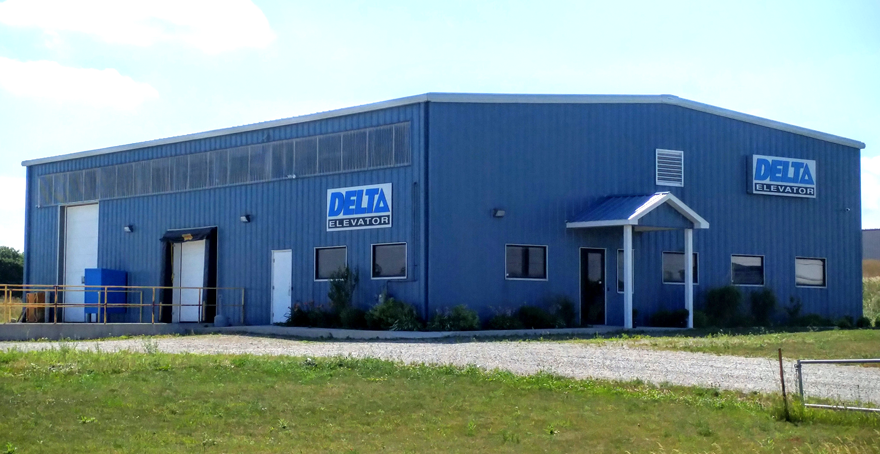 Delta Elevator Employee Featured in Conestoga College Recruitment Ad
We are proud of staff members like Josh who have a keen interest in finding out how things work and then improving them for the benefit of our customers.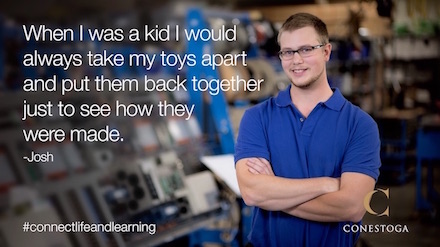 Delta has a long-standing partnership with Conestoga College and regularly employs students enrolled in a variety of their Cooperative Education programs. (More information about Cooperative Education can be found here: Conestoga College Career Services).
Congratulations, Josh!
Chestnut Hill Selects Delta to Supply Elevators for San Francisco by the Bay
Delta Elevator is honoured to work with Chestnut Hill Developments once again at their new development, San Francisco by the Bay.
This extraordinary development offers waterside living in an ambiance of elegance and convenience. Located by the Frenchman's Bay in Pickering (Ontario), San Francisco features two beautifully designed towers connected by a convenient retail-commercial complex and stately townhomes. Set amidst lush parklands, San Francisco offers a state-of-the-art recreational club with every conceivable amenity to inspire mind, body and spirit. Just steps from the marina, it's the ideal choice to lead an active, sophisticated lifestyle.
Please note that Delta Elevator is not participating in any mystery shopping study.
If you receive a notification that includes a cheque from Delta Elevator as part of a mystery shopper offer, be aware that it is a counterfeit cheque not issued by Delta Elevator.
Please contact the police department if you are in possession of such a counterfeit cheque.
We apologize for any inconvenience.
If you have any questions or concerns, please call or email us directly.
Loomex Group Chooses Delta Elevators
The Loomex Group has selected a Delta hydraulic elevator for its new 22,000-square-foot building at the Peterborough Airport. The new building will offer more space for training, community programs and economic development at the regional transportation hub. Building completion is set for spring of 2015.
Rise Real Estate Developments Selects Delta Elevator for New ICON Condo
Rise Real Estate Developments has recently selected Delta Elevator to supply the elevators for its new condominium, the ICON 330, located on Phillip Street in Waterloo.
This prestigious complex is located across the street from the University of Waterloo and close to Wilfrid Laurier University. Along with impressive amenities located on-site, the development is located within steps of all types of additional services desired by students: shopping, restaurants, groceries, coffee shops, bars, theatres, transit and more.
Delta Supplies Elevators to Waterloo's First Four-Star Hotel
The Delta Waterloo hotel is now open at the Barrel Yards development in Uptown. It is the only four-star, full-service hotel in the marketplace and is ideally located close to the city's two universities, hundreds of high tech companies, and internationally recognized public institutes. The hotel is also next to one of the future Ion LRT stops that will provide a connection to the Regional transportation corridor.
Inside the facility are three Delta Elevator MRL units, custom-designed to blend with the high-quality, premiere service approach of the Delta Hotel chain.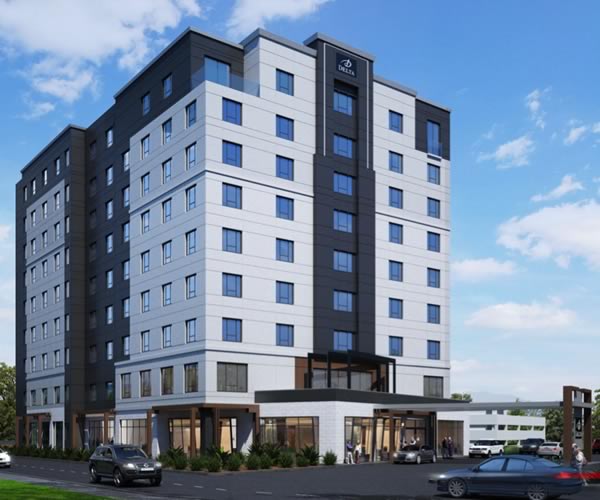 The Delta Waterloo hotel is one phase of the Barrel Yards block currently under construction by Auburn Developments, which also includes four high-rise condominium buildings (The Cooperage) with views overlooking Silver Lake in Waterloo Park.
Delta Elevators to be Installed in Toronto's Prestigious Life Condominiums
Delta Elevator is pleased to be working with Chestnut Hill Homes and Quadrangle Architects for the supply of elevators at the Life Condominiums in Toronto.
This prestigious development is located at Yonge and Merton in the quiet and safe midtown area. The 13-storey midrise architectural gem has 149 urban suites, comprising studio, one, two, and three bedroom designs.
Delta Supplies Glass Elevators for CN Tower Plaza Re-development
Delta Elevator worked with Graham Infrastructure to supply the 910 kg capacity elevators for the re-development of the CN Tower plaza. The two units were installed in 2013 as part of the re-vitalization of the entrance to Toronto's iconic landmark tower.
From inside, the glass cabs provide a scenic overview of the courtyard. From outside, the glass shafts provide an excellent insight into the mechanical workings of a hydraulic elevator. Check them out next time you are visiting downtown Toronto!
---
For older news, please see the News Archive page.