Hydraulic Passenger Elevators
Proven Technology
Hydraulic elevators have been in service around the world for many decades. They use proven, oil-based lifting technology in low to mid-rise buildings (up to 6 floors) to provide a robust and reliable elevating device.
Affordability
Hydraulic elevators are relatively simple in design compared to traction elevators. This makes them a cost-effective choice when the entire product life cycle is considered—from the initial installation through to regular maintenance.
Durability
Under normal circumstances with regular preventive maintenance, many hydraulic elevators last more than 20 years before requiring major upgrades.
Serviceability
Hydraulic elevators generally have fewer parts than traction elevators, which makes them easier to maintain and service. In addition, there are fewer proprietary parts, so they can be serviced by other elevator contractors instead of the OEM.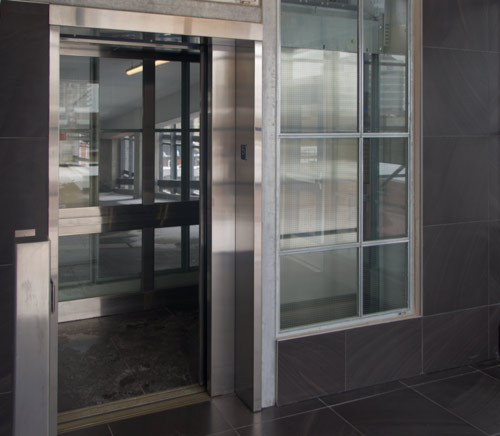 Other Features
Speeds ranging from 0.4 to 0.75 metres per second
Capacities from 910 to 2,500 kilograms
Microprocessor-based dispatching
Simplex or Group Elevator Operation
Safety features include infra-red door curtain, emergency cab lighting, emergency phone
Eco-friendly biodegradeable hydraulic oil option. See also our Sustainability page.
Typical Applications
Malls and plazas
Apartment Buildings
Commercial Developments
Schools & Hospitals
Parking Garages
Churches
Hydraulic Passenger Elevator Configurations
Conventional In-ground Hydraulic
Holeless Hydraulic
Dual Upright
Dual Telescopic
Dual Roped
Max. Floors
6
3
4
6
Max. Travel (mm)
15,000
4,200
7,700
15,000
Capacity (kg)
910 - 2,500
910 - 1,587
910 - 1,587
910 - 1,587
Cylinder Location
Below Ground
Elevator Shaft
Elevator Shaft
Elevator Shaft
Drive Type
Direct Acting
Direct Acting
Direct Acting
1:2 Roping
Initial Cost
$ $ $ $
$ $
$ $ $
$ $ $ $
Service Costs
$
$
$
$ $
Advantages

Cost effective for new construction
Robust design
Smooth, quiet ride
Low maintenance costs

Cost effective for  both retrofit sites and new construction
Can have front and rear entrances.

Cost effective for  both retrofit sites and new construction

Cost effective for  both retrofit sites and new construction
Higher travel than other above-ground hydraulics

Disadvantages

Not suitable for bedrock or groundwater sites
Requires third party hole drilling at construction
Cylinder replacement is expensive

Limited travel distance
Oil noise is greater than an in-ground configuration.

More expensive to install than an in-ground elevator

More expensive  to install and maintain than an in-ground elevator
More susceptible to vandalism

Specification
Drawings
Additional Downloads