Elevator Machine Room Safety Tips
Building Owner / Manager Responsibilities
In order to keep our employees safe and to comply with regulatory requirements, please ensure the following:
Adequate lighting:

200 lux in the Machine Room
50 lux in Machine Room access

Safe access to the Machine Room and no deadbolts on rooftop door.
Stairs, guardrails and A/C maintained in good condition.
No items stored in the Machine Room, including cleaning supplies.
The Building Owner / Manager may authorize personnel other than mechanics into the Machine Room to perform certain tasks, provided the workers are trained on the hazards present and are equipped with instructions on how to work safely:

Changing light bulbs
Checking fire extinguishers
Emptying garbage receptacles

However, any work done on the elevator system must be under the direction of a licensed elevator technician.
For more details, call us or refer to the current version of the CSA B44 Safety Code for Elevators and Escalators.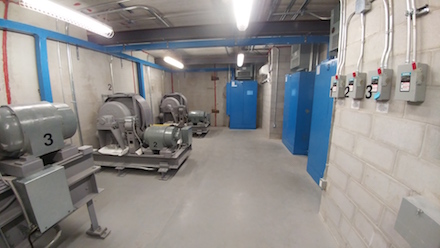 Delta Elevators Responsibilities
Place an "Out of Service" sign on the elevator doors during maintenance and service work.
Provide adequate lighting on the cartop.
Adequately dispose of any non-hazardous waste.
Replace guards on equipment when service work is completed.
Sweep pit and Machine Room for dust and garbage.
Ensure equipment is locked out while other contractors hired by Delta are accessing the Machine Room space.
Clean up around elevator equipment after completing work.