MRL Passenger Elevators
Machine Room-less (MRL) passenger elevators were first developed in Europe and are rapidly gaining popularity in North America.
MRL is an exciting new elevator configuration designed to save space, money, energy, and time. It is a good choice for mid-rise buildings that need to get passengers where they are going quickly.
MRL Elevator Benefits
MRLs save space by placing the compact, gearless machine directly in the elevator shaft.
There is no need for a roof top machine room, which potentially lowers building construction costs.
Gearless machines and counterweight configuration of MRLs increases energy efficiency and provides a smooth, quiet ride.
MRLs typically travel faster than traditional hydraulic elevators, which saves time for riders.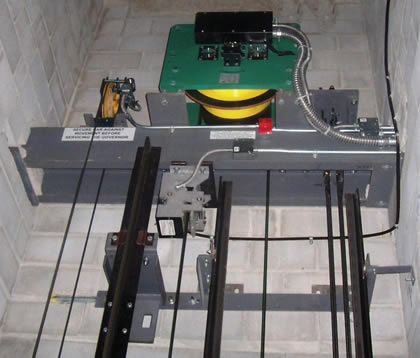 Delta's MRL elevator utilizes a top-of-shaft machine and an under-slung car configuration. Coupled with the DMPC controller, the following performance standards can be achieved:
Speeds from 0.75 to 1.75 metres per second
Capacities from 910 to 2,050 kilograms
Travel up to 18 floors (50 metres)
Microprocessor-based dispatching and state-of-the-art VVVF AC motor control.
Simplex or Group Elevator Operation
Safety features include infra-red door curtain, emergency cab lighting, emergency phone
Unlike other MRLs, the Delta MRL includes a rope gripper to prevent unintended motion. Ask us about this important safety feature!
Drawings
Other Downloads