Sustainability
As a company, Delta Elevator is on the path toward greater sustainability. We have recently invested in energy-efficient lighting, insulation and siding in our factory and offices. Our service vehicles use a "flex fuel" system to lower fossil fuel consumption.
We also offer green products and services to help you lessen your impact on the environment.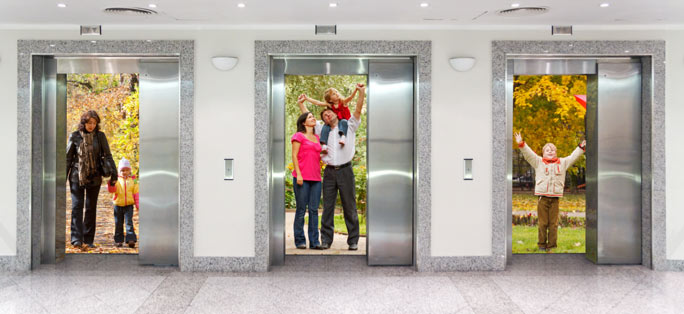 Buy Local
Delta elevators are manufactured in Ontario, and all our major parts suppliers are located in North America rather than overseas. This reduces shipping costs and greenhouse gas emissions due to reduced distance to get your new elevator or parts to your site.
Eco Benefits of Machine Room-Less (MRL) Elevators
MRL elevators, most suited to mid-rise buildings, use a compact, gearless machine located right in the elevator shaft, eliminating the need for a separate overhead machine room.
In addition, MRL elevators consume less energy because they:
require a smaller motor;
use a gearless machine;
generate much less heat (which reduces or eliminates the need for cooling);
use counterweights, so the motor only has to overcome friction, not carry the whole load;
recover potential energy as electricity using regenerative motors.
Because MRL elevators are gearless, they do not require a lubricated gearcase—this reduces the potential for chemical leaks and human exposure to harmful lubricants.
Note that these ecological benefits are tempered by the fact that MRLs are more complex and require more material to manufacture than other types of elevators. There are many other factors to consider, such as how much the elevator will be used. Contact Delta for a free design consultation to help you choose the right elevator.
Eco-Friendly Options for Hydraulic Elevators
Hydraulic elevators are still the most common devices in North America in low to mid-rise buildings. Hydraulic elevators require oil to maintain smooth operation; Delta offers biodegradable hydraulic oil to maintain your device.
Pursuing LEED certification for your building?
The Leadership in Energy and Environmental Design (LEED) rating system does not directly award credits for elevators, but elevating devices from Delta can assist in obtaining LEED credits in various categories. Some of the relevant credits you may be eligible for include:
MR Credit 2.1 and 2.2, Construction Waste Management: With proper management of elevator construction, very little waste is generated and most is diverted away from landfill.
MR Credit 4, Recycled Content: Use elevator components which contain recycled content. (Elevator systems are substantially steel by weight and most steel contains significant recycled content.)
MR Credit 5, Regional Materials: Source elevator components from nearby sources to avoid the negative impact of shipping great distances.
MR Credit 7, Certified Woods: Substitute wood products used in the elevator cabs or platforms with Forest Stewardship Council (FSC) certified products.
EQ Credit 4.1, 4.2 and 4.4, Low Emitting Materials: Ensure that materials used in the construction and installation of an elevator satisfy LEED requirements for low or no emissions of identified substances.