One Year Anniversary for Team Lead Role
A year ago, Delta Elevator created the role of Team Lead in the Manufacturing area for both our day and afternoon shifts.
This role helped improve communication, collaboration, and efficiency in the Shop while providing the opportunity for professional growth for everyone involved.
Our Team Leads and our Manufacturing leaders exemplify our commitment to Integrity, Service & Quality and contribute to making Delta Elevator a great team.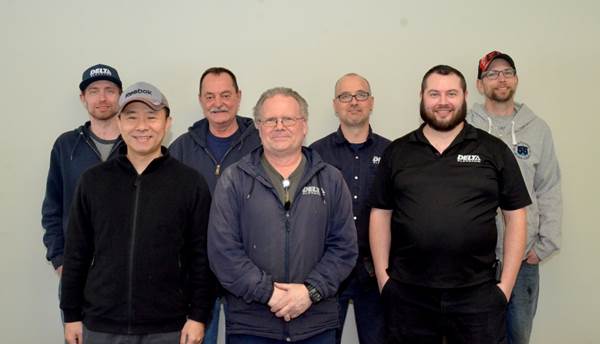 Back (L to R)
James Morrison - Cab and Entrance Assembly Team Lead
Perre Lemoine - Fabrication, Laser, Form, Welding, Entrance Assembly Team Lead (Afternoons)
Richard Bryant - Fabrication, Laser, Form, Machining, Welding Team Lead
Jason Picard - Assembly, Logistics, Cab Assembly, Paint Team Lead (Afternoons)

Front (L to R)
Ming Yan - Manufacturing Coordinator
Steve Paul - Logistics, Assembly, Paint Team Lead
Kevin Murtagh - Manufacturing Manager