Women Mechanics in the Elevator Industry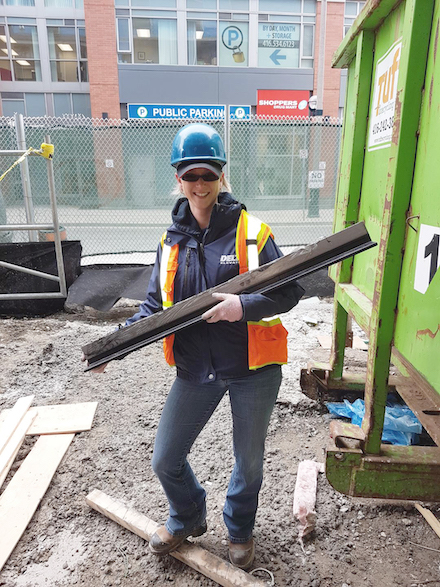 Delta Elevator employs a very special Elevating Devices Mechanic (EDM): Erika Price. She is one of the small numbers of female elevator mechanics in Ontario, because like many other trades there are very few women in the industry. When Erika joined Delta in 2013 she already held her EDM T Class license, obtained 10 years earlier. Today, she holds a full EDM A Class license.
The process Erika followed to become an elevator mechanic is similar to most trades. A candidate joins a company and is registered as an apprentice. During the minimum four year apprenticeship period, there is a combination of field learning hours and classroom learning hours. Once these have been completed, the apprentice can challenge the final exam. Upon passing, the apprentice becomes a journeyperson (in the elevator industry, an EDM A Class). To maintain the license, the mechanic is required to complete certifiable bi-annual Continuing Education credits, which includes both safety and technical training.
As an only child, Erika reflects back on how her father did not get the boy he had hoped for, so he instead tried to teach her how to be a tomboy. As a strong minded girl, she resisted every step of the way: Throwing a baseball in her tutu and doing cartwheels in the soccer field while the opposing team scored a goal because she was too distracted. But as much as her father tried, Erika did not take to sports. What he soon realized though, was that she loved tools . . . and that is where it all began. Erika was nearby any time her father did work around the house or on his truck, wearing a pony tail and a big smile as she absorbed the learning.
One particular day Erika says she noticed her father's friend was wearing an elevator company shirt and she became very intrigued. Eventually, this friend became her mentor in the elevator industry. Even today, Erika is thankful for all that he taught her about elevators and the elevator business, and credits him for contributing to her success.
Erika's first experience in the elevator industry was at Savaria. There, she progressed from being a helper in the field to becoming the Director of Operations in the matter of 10 years. "Thank you Chris Rastin!" Erika states, "I could not have done it without you!"
Now working as a Project Coordinator for Delta Elevator, Erika has difficulty pinpointing one particular thing she enjoys about working in the industry. She likes to work in the field as much as to being in the office and feels she is most at home when she is on a job site. Erika finds great satisfaction working through field issues with other trades to find solutions to problems. She plays a crucial role in the projects she manages and receives a sense of accomplishment when each is successfully finished.
As for the future, Erika is confident in the path she has chosen and has every desire to remain in the elevator industry. "Delta is a fast growing and successful company. I can feel good things happening here and I can see advancement in my future. That's part of the beauty of working for Delta. There is so much room to grow that it's hard to know in which direction one will go. I anticipate that I will be a long term employee at Delta Elevator, and trust that my experience, knowledge base, and work ethic will advance my career and help me pursue the opportunities that present themselves in the future".
When asked whether she would recommend the elevator industry to other women, Erika proclaims "YES, with no hesitation!"
Unfortunately, there is still a perception out there that the industrial trades are not for women. According to Erika, "It takes incredibly hard work, thick skin, broad shoulders, and did I mention HARD WORK? There are people in the trades who will support you, take you under their wing and sincerely want to see you succeed. Make your mistakes and learn from them. Don't be afraid to take on the challenging project instead of taking on the less complex one. Women need to continue to explore new trades and show themselves and others that they are capable, creative, and hardworking, with a lot to contribute in the construction sector."